Who could think of a summer getaway on the French Riviera more perfect than one which includes renting a luxury villa and chartering a boat for a day in Saint Tropez?
Experience the full romance of Saint Tropez by spending the day afloat the glistening waters of the Mediterranean sea on a private boat. Simply contact the St Tropez House team to charter a day boat with Riva and we will take care of the rest! With over 100 years of experience in boating excellence, St Tropez House is proud to partner with the esteemed Riva MBS to offer its clients the utmost Côte d'Azur experience in renting a luxurious boat for a day. From lounging on the water to traveling to highly sought after destinations on the French Mediterranean, renting a private boat for a day is the perfect way to make unforgettable memories for you and your guests while in Saint Tropez.
Simply share the type of boating experience you wish to have with the St Tropez House team and they will suggest and book the most suitable Riva MBS boat for your day on the open water.
Rent a Boat for the day with Riva MBS
Riva MBS has been providing the French Riviera with the speed, thrill and elegance of boating since 1959 when one of Carlo Riva's boats first touched the waters of the Monaco Principality. From that moment forward this brand has experienced unsurmountable success and visibility through its catering to celebrities and royals alike. Its fleet of boats and their chic designs, which embody the elegance of times past, continue to enchant those who charter a boat with Riva MBS.
Ranging from 2,000 EUR – 10,000 EUR per day, Riva MBS offers a wide range of boats to accommodate daily journeys. From the flawless contemporary design and large lounging areas of the Riva 86' Domino to the elegant allure of the Riva 44' Rivarama, guests can choose the model which best suits the specific size, layout and amenities required.
Discover below three examples of Riva MBS boats available for daily charters:
Riva 33' Aquariva
Length: 33'
Number of Guests: Max 6+1 guests on board
Layout: 1 Cabin
Price: € 2.000,00 VAT INCLUDED/PER DAY + APA: 30%*
Riva 63' Virtus
Length: 63'
Number of Guests: Max 10+1 guests on board
Layout: 3 Cabins + 1 Crew
Price: € 5.000,00 VAT INCLUDED/PER DAY + APA: 30%
Riva 86' Domino
Length: 86'
Number of Guests: Max 12+1 guests on board
Layout: 4 Cabins + 2 Crew
Price: € 9.830,00 VAT INCLUDED/PER DAY + APA: 30%
*APA (or Advance Provisioning Allowance) is an additional charge added onto yacht charter contracts which covers a variety of onboard expenses. This charge simplifies the charter experience for guests and covers day-to-day operating expenses such as fuel, harbour and dockage fees, food and drink and communication costs.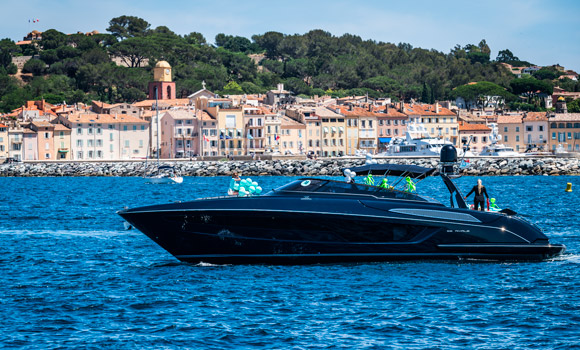 Choose the perfect day excursion with Riva MBS
The French Riviera is dotted with picturesque and historically rich locations to visit while on your exclusive mode of transportation. Choose from a selection of romantic destinations to visit when chartering your Riva MBS boat from the port of St Tropez.
From top restaurants and stunning seaside towns to pristine beaches and unparalleled natural beauty, your private Riva MBS boat will take you on an escape from the ordinary into the extraordinary.
Discover the top locations to choose from while out for the day on your private boat:
Lérins Islands in Cannes & La Guérite
A group of Mediterranean islands in Cannes only 1 hour away from Saint Tropez by boat, Île Sainte-Marguerite and the Île Saint-Honorat have attracted celebrities for decades with their raw beauty and pristine sandy beaches.
Be sure to visit the legendary restaurant La Guérite accessible only by boat on Île Sainte-Marguerite for an unforgettable experience. Since 1902 this iconic culinary establishment has been welcoming VIP guests to savour its authentic Mediterranean cuisine with their feet in the sand. Chef Yiannis Kioroglou invites you to enjoy the finest seafood the sea has to offer.
Open every day for lunch and Saturdays in July and August for dinner
Contact to reserve:
La Guérite – Ile Sainte Marguerite
06400 Cannes
+33 4 93 43 49 30
@la_guerite
Porquerolles Island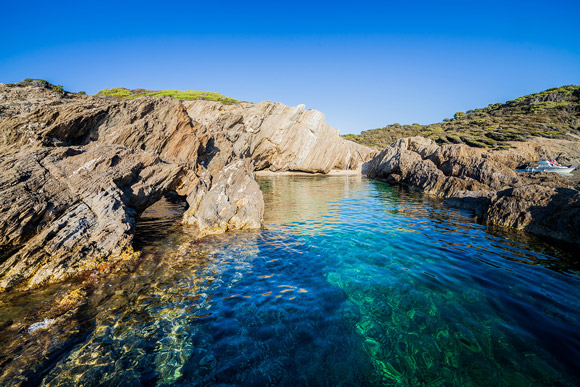 Source: hyeres-tourism.co.uk
Located off the town of Hyères is this fantastical collection of 3 islands which boast picturesque beaches, top restaurants and numerous amenities. Arrive by private boat to these islands in just over an hour from Saint Tropez and enjoy their rolling vineyards, pristine beaches and 18th century village.
Dine at the most renowned restaurant La Pinède located in the exclusive hotel Le Mas du Langoustier. Surrounded by 50 hectares of lush land in Port-Cros National Park, this beautiful restaurant is only a stone's throw from the sea and features delectable Mediterranean dishes with a twist.
Open only for lunch from Thursday to Monday 12h15 – 13h45 – by reservation only
Contact to reserve:
La Pinède
Chemin du Langoustier
Ile de Porquerolles
83400, France
+33 4 94 58 34 83
https://www.langoustier.com/fr/accueil
Escalet, Ramatuelle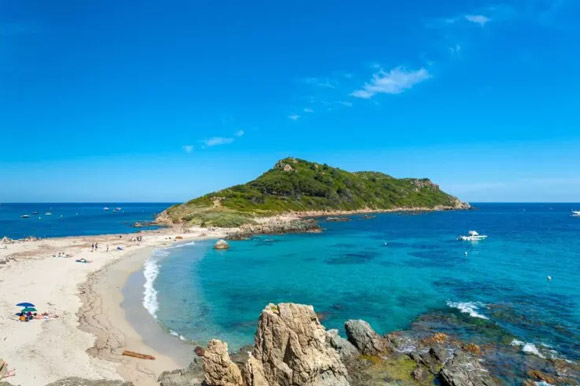 Cap Taillat (source: lelongweekend.com)
Cruise along the coast of Escalet and enjoy lunch onboard while discovering the wild creeks and beautiful beaches in this area. Visit the beautiful beach of Escalet or discover the best kept secret at the southern end of the Gulf of St Tropez, Cap Taillat. Accessible only by boat or foot, this sandy paradise stands frozen in time and remains seemingly untouched by the modern world. Escape the glitz of Pampelonne and enjoy the serenity and raw beauty of this special place only minutes away from the port of Saint Tropez.
For more information about these exclusive excursions contact the St Tropez House team.
Renting a Luxury Villa in Saint Tropez
Villa Vertige in Pampelonne
Leave your worries to the wind and rent a luxury villa in St Tropez during the peak summer months. With a collection of over 200 villas, St Tropez House welcomes you to soak in the sun on your very own outdoor terrace overlooking the sands of Pampelonne.
Stay from 2 weeks up to several months in your rental villa and break up your stay with delightful days out exploring the islands of the French Riviera on a Riva boat.
For more information about these exclusive day boat excursions contact the St Tropez House team.